West Sepik Province (Sandaun)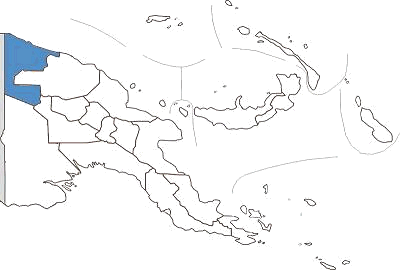 Vanimo, the capital of Sandaun Province, sits on a neat little peninsula with beautiful beaches on either side. A pleasant walk around the headland brings the snorkelling enthusiast to several good spots. To the west, wade past vine draped limestone headlands to reach the final resting place of a rusted Japanese landing barge.
Vanimo, 30 kilometres from the Indonesian border is PNG's entry port from Jayapura in Irian jaya (formerly West Papua). This area of the world has seen little development in international tourism, other than visitors enroute from Irian jaya to other parts of Papua New Guinea, or the intrepid traveller or surfer in search of the perfect wave.
Superb beaches west of Vanimo, towards Wutung, attract surf board riders from PNG and overseas during the months of September to January. The 260 kilometre shoreline is pounded by heavy seas caused by the blustery north west winds during December to March. However safe all-year round anchorage can be had in Vanimo. Several little islands lie offshore from the town of Aitape, the only other town in Sandaun Province.
Aitape was established as a station by the Germans in 1905 and was occupied by the Japanese during World War 2. Bits of aircraft wreckage can be found near the wartime Tadji airstrip and a war memorial stands nearby.
The headwaters of the Sepik River are in Sandaun Province. Here the river narrows into dense, mountainous country and only small boats can navigate upstream from the village of Ambunti. There are no roads in the Upper Sepik and much of the province is covered in rainforest.
The villages here are known for their specialist religious cults. The people of Maio and Yessan have a yam cult and the isolated village of Swagup is the home of the insect people, whose art form incorporates the figures of the sago beetle, dragonfly, praying mantis and other insects.
Among the distinctive artefact, from Sandaun are painted canoe, of Sissano Lagoon and large shields from the Telefomin district. The shields have broad zigzag, spiral or V designs that represent their ancestors' bodies.
Vanimo has three hotels, the largest of which is the Sandaun Motel. In other parts of the Province village accommodation is available and some mission stations also offer simple accommodation.
Air Niugini flies to Vanimo weekly en route to jayapura, Irian Jaya.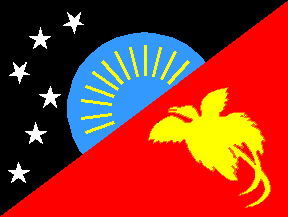 District
District Capital
LLG Name
Aitape-Lumi District
Aitape
East Aitape Rural
East Wapei Rural
West Aitape Rural
West Wapei Rural
Nuku District
Nuku
Nuku Rural
Palai Rural
Yangkok Rural
Maimai Wanwan Rural
Telefomin District
Telefomin
Namea Rural
Oksapmin Rural
Telefomin Rural
Yapsie Rural
Vanimo-Green River District
Vanimo
Amanab Rural
Bewani-Wutung-Onei Rural
Green River Rural
Vanimo Urban
Walsa Rural
Sandaun Motel – 857 1000
Vanimo Resort – 857 1102
Vissers Guest House – 857 1366
Silung Beach Resort Lodge – 857 1653
Maprik Wak'n Hotel – 858 1315
Our advertising rates and policy can be found through
the Online PNG Business Directory.