Opportunities with Tanorama
Tanorama is always seeking experienced, qualified people who are "mad" (making a difference). - positive people who are interested and wish to participate in the management and support of development projects in Papua New Guinea and the South Pacific region.
We would also be pleased to hear from specialists with proposal/bid writing experience who wish to assist Tanorama win more projects in PNG and our region. Let us know if you are interested in pursuing an up-coming opportunity in your area of expertise.
Development Projects Opportunities
Tanorama along with our local and international associates often require a range of specialists and support staff to put together winning proposals for the tendered development projects in our region. Tanorama is often approached by other local and international firms and institutions to provide local expertise for their assignments.
Registering with The Tanorama Network Consultant Database is the first step in being considered for upcoming project opportunities.
To register just submit your curriculum vitae and/or your company profile to: webmaster@tanorama.com. Remember to send us regular updates as well.
Please ensure your CV includes:
l name and contact details;
l gender and date of birth;
l nationality/nationalities;
l language skills;
l countries of work experience;
l qualifications;
l work experience (please provide as much information as you can as this may increase your selection for consideration on consultancy opportunities as they arise).
Examples of CV layouts as suggested by our clients - AusAID and EU.
Your CV can be in MS Word format -.DOC, Rich Text Format -.RTF or in Portable Document Format -.PDF.
We encourage the file size to be less then 250 kb for rapid transfer amongst our Project Officers and clients.
Please do not use .docx, or .mdi formats as these are not supported by our search engine.
Benefits of registration with the Tanorama Consultant Database:
l information on opportunities that match your interests and capabilities;
l confidential correspondence with you on opportunities to nominate you for roles in development projects that match your interests and capabilities;
l access to Tanorama advice and/or support if you accept a role in a development -oriented consultancy or project assignment.
News / Jobs
Current
News and upcoming opportunities with Tanorama are published on our Facebook page
It is not necessary to be registered with Facebook to access/view these pages

---
Tanorama is an equal opportunity employer; women and young professionals are encouraged to apply.
---
Past
22nd August, 2010
Tanorama commenced using Facebook to interact with and inform members of up-coming opportunities with Tanorama, with assoicates and with other agencies seeking capable professionals for development sector projects in our region.

The take up of Facebook in our region has been astounding
---
8th April, 2010
Tanorama together with associates Consulting Plus are awarded
"Project of the Year"
The Institute of Management Consultants (IMC) NSW congratulates the winner of the project of the year for 2009
This year the winning project is a demonstration of international cooperation between Australia and Papua New Guinea (PNG). Consulting Plus of Wollongong teamed with Tanorama Limited of Papua New Guinea to conduct a survey on the impact of AusAID funded development scholarships awarded for tertiary studies at Australian Universities.
More than 800 students have participated in the scholarship program. Challenges facing the consultancy team included outdated information in the database and problems with email and telephone communications. These challenges called for innovative solutions and by using the PNG Australia Alumni Association, newspaper advertisements and word of mouth, 236 students were contacted of whom 125 agreed to be interviewed.
The survey results of interviews, with students and employers, demonstrated an overwhelmingly positive impact on the students. This positive impact was endorsed by the employers as having a significantly positive effect in the workplace. And both groups agreed that the scholarship program had had a significant impact on PNG's development.
One observer who was familiar with the consultancy stated that it was a defining moment and had provided an effective performance measurement framework for seeking continuous improvement in the outcomes monitoring and evaluation of other development programs.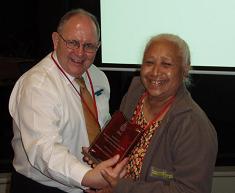 Nora Vagi Brash accepting the award for Tanorama

Sam Durland of Consulting Plus and Nora Vagi Brash of Tanorama showing their awards
---
Past Newsletters & Publications
Focus
Tanorama is always tracking a number of development projects at all times.
If you are aware of an up-coming opportunity don't hesitate to contact us to inform us of your interest.
We anticipate the need for people with proven experience and skills in one or more of the following areas:
• Project Management, particularly for donor funded activities
• Environmental Impact Assessment services
• Business Development services
• Strengthening of Non-government organisations and civil society
• National and sub-national government capacity strengthening
• Community Development
• Community Facilitation
• Eco Tourism and Micro Business
• Workshop Facilitation
• Trade Policy review and development
... should you be interested in such roles please submit your CV and contact details to the Webmaster.
Unless otherwise stated, consultants, specialists, advisers and trainers should have tertiary qualifications in the above areas or a related field with at least 5 years relevant experience in a senior position. Applicants should also note that there may be long lead times in tendering and contracting of development projects. Remuneration will be of a very high standard. All information provided by applicants will be kept in the strictest confidence.